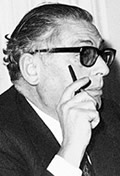 Born in Savona in 1919.
Graduated in Economic and Commercial Sciences
Chief of Research Department in Edison from 1943 to 1954.
Deputy-Secretary for economic policies in Confindustria from 1954 to 1970, Director General until 1976.
In 1980, he was appointed member of the Executive Board and eventually Vice-President for economic relations.
President of the Industrial Commission at the CNEL, representing private companies.
Advisor and member of the Executive committe of the ABI.
Vice-President of the Italian Banking Institute, of Pirelli and of Montedison.
President of Cotonificio Cantoni and of Gemina.
Advisor of numerous industrial and financial companies.
Director of the "Economic policy review" from 1958
President of the Luigi Einaudi Foundation for studies in politics, economics, and of its Center of research and documentation