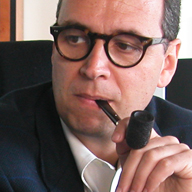 In 1979, while the number of drugs addicts was growing dramatically, Davide Giacalone joined Vincenzo Muccioli in the campaign against drugs.
From 1980 to 1986, he was the national secretary of the "Republican Youth Federation".
From July 1981 to November 1982, he became the Head Secretary of the President of the Council of Ministers.
From 1987 to April 1991, he worked as an adviser to the Minister of Posts and Telecommunications, where he assisted in drafting the laws for the regulation of the radio-television system, in the re-organization of the telecommunications, and in the reform of the PT Ministry. In addition, he also participated in international relations debates, and held meetings for the European Council of Ministers.
He has been member of the Board of Directors and of the Executive Committee for several companies such as Sip, Italcable and Telespazio. From 2003 to 2005, he was also the president of DiGi Club, an association of digital radios.
In 2008, he received from the Congress of the Republic of San Marino the opportunity to be advisor for the re-organization of the telecommunications, in order to prepare the necessary reforms in that sector.
In May 2010, he was appointed to chair the Agency for the dissemination of innovation technologies, under the authority of the Presidency of the Council of Ministers. During this period, the "Italy of Innovators" program was developed, which had a significant success and allowed many Italian companies to enter the Chinese market. In cooperation with the authorities of the former, three exchange centers have been created: technology, design, e-government. In November 2011, he resigned from this position, suggesting to the Government to restrain the unproductive part of the Agency, and eliminate its overlaps with other institutions.
From 2015 to 2016, he became a member of the Advisory Board of British Telecom Italia.
He is the author of numerous articles, studies and books.