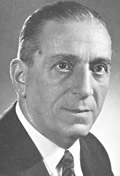 Catholic and Einaudian acolyte, elegant and ironic orator, he was a member of the Constitutive Assembly at the age of 32. He was later appointed Under-Secretary of State at the Department of Justice during the fourth De Gasperi government; Under-Secretary of State at the Ministry of Foreign Affairs during the Scelba government and during the first Segni government. He was appointed as Minister of Tourism and Entertainment during the second Andreotti government. He was also national president of the Italian Liberal Party from 1967 to 1972, after Gaetano Martino.
Strong believer of his family's motto "Ostendo sed non ostento", he was an authentic Europeist and he admired Marcello Soleri, president of the Sitrab – a company created in occasion of the San Bernardo tunnel – and of the Luigi Einaudi Foundation in Rome; he regularly cooperated with La Tribuna, historical liberal journal, and he was appointed as Commissioner of the Mauritian Order. In some documents retrieved in the Mauritian archive, there is confirmation of his wide network of relationships with the institutions. His papers, amongst the most personal in the Mauritian archive, show contradictions and flaws of Italian politics. Very significant his sentence "Do not Democristianize", with which he concluded a letter addressed to a colleague, while another letter highlights his discouragement: "For most of the time, I'm fighting between the plenty of good friends I've met during my political life, and the seemingly plenty of politicians only caring about sitting in the Parliament".
He was father of Alfonso Badini Confalonieri, bishop of Susa. His cousin-in-law was Emilio Pasanisi, former director general of INA (National Institute for Insurances).