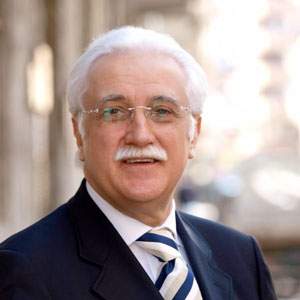 Giorgio Calabrese is graduated in Medicine and Surgery, specialized in Food Science.
He has been a Professor of nutrition and human nutrition at the University of Eastern Piedmont in Alessandria and at the University of Turin and Messina.
He holds medical studies in Asti, Turin, Milan and Rome.
He has been an active member of the New York Academy of Sciences and of the American Association for the Advancement of Science in Washington.
He has also been a member of the European Food Safety Authority (E.F.S.A.) in Brussels from 2002 to 2008.
He is the author of international and national publications, and he has participated in many International Congresses as an official speaker. He has been working as a scientific consultant for several Commissions for the Ministry of Agriculture ("Fruit in schools" and "Expo 2015"). He is also a consultant for the Ministry of Health.
As a nutrition and health consultant, he has worked for the Major of Turin supervising the dietetic management of school menus. He is the official dietician of Juventus F.C.
As a publicist journalist, he has been a consultant for Rai-1 for "Unomattina" broadcasts "Sabato & Domenica", "Porta a Porta", "Linea Blu", "La Vita in Diretta", and for Rai-2 for broadcasts "TG-2 Salute","Medicina 33 ","Eat-Parade"and "I Fatti Vostri", covering the three channels of Radio-RAI and many national private radio stations.
He currently writes for daily newspapers "La Stampa", "Il Corriere della Sera" and "La Repubblica" and cooperates with important magazines such as "Sette" and "Io Donna" by Corriere della Sera, "I Viaggi del Sole 24Ore", "Famiglia Cristiana" and "Noi Paritori & Figli" by Avvenire, as well as with many weekly magazines dedicated to women's health and with the weekly magazine "Oggi".
He is the President of the Research Department of the Luigi Einaudi Foundation.