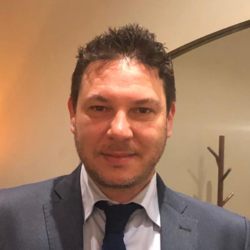 Since 2000 he is a firefighter at Pavia Command and in 2010, he becomes a NBCR provincial expert (Bacteriological, Chemical and Radioactive Squad).
Trade union secretary for the FNS CISL of Pavia, from 2013 to 2016, Matteo Grossi is elected, in 2016, mayor of Sant'Angelo Lomellina, province of Pavia, with the civic list "Rimettiamo in moto Sant'Angelo" (Let's restart Sant'Angelo).
In the first 500 days of government, he sets to zero the 5 negative points that the Court of Auditors had pointed out to the previous administration and his administration also sets to completion 20 points out of 33 of the program presented to the voters thus remedying the financial collapse of the municipality.
In 2017 Sant'Angelo Lomellina is the first Italian municipality, and today the only one, to install video cameras in public kindergartens and nurseries, bypassing a law pending of approval in the Senate. The news is still the subject of discussion in newspapers, radio stations and national TV programs.
Also in 2017, the mayor presents a document called "Figli delle Istituzioni" ("Sons of the Institutions"), both in the Chamber and in the Senate, with which he denounces the absence of the State in matters concerning abandoned children or those in precarious financial conditions charged to the municipal coffers. Since then the discussions are still open.
Matteo Grossi is the founder of AdL, Amministratori della Lomellina, (Administrators of the Lomellina) a neutral political association, composed by mayors and administrators of more than thirty municipalities of the Lomellina area, born with the mission of facing and solving local problems concerning environment, infrastructure, safety and employment.