The Foundation
The Luigi Einaudi Foundation is the research center that promotes the understanding and the dissemination of the Liberal political thinking.
Established in 1962 by Giovanni Malagodi.
Vision
It strive to ensure that every citizen is able to live, grow, relate to others and prosper in peace, through the acceptance of diversity, the protection of individual freedom and human dignity, the promotion of free and constructive debate on facts and ideas.
Mission
To foster liberal political thinking and draft original policy answers for complex contemporary issues linked to globalization and to the rapid technological development in order to secure individual freedom and economic prosperity.
 Areas of interest
The economy in the age of Globalization/communication/information
The State and the Public Administration, with particular focus on young people's education and life-long learning
Justice and civil rights
Energetic policy and environmental compatibility
Innovation and digital market policies
Collection, management and promotion of the liberal historic and literary heritage
Promotion and modernization of the political ideas of Luigi Einaudi and other classical liberals
School of Liberalism
Tools
Analyses, Research and Studies
Books' launches
Seminars, Workshops and Conferences
School of Liberalism
Communication and Advocacy
Political Debate
Einaudi Lecture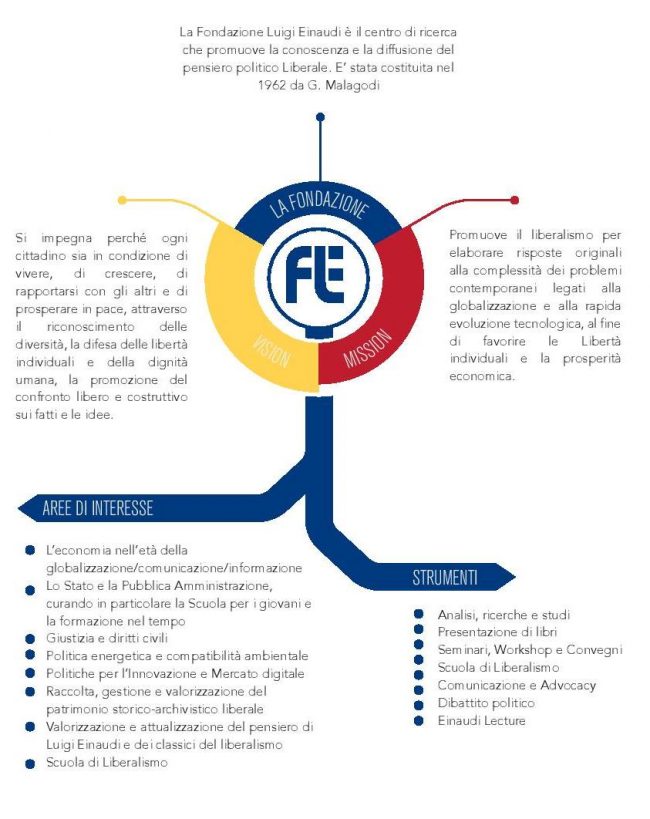 ---
Einaudi Foundation Activities 2016
Einaudi Foundation Activities 2017
---
Inaugural address by newly-appointed Chairman Giuseppe Benedetto 3 February 2016
To provide answers and draft liberal policy suggestion in relation to the ever so complex and articulate issues being raised by Today's Globalized society to citizen and States.
The State, from liberal perspective of society, is not and cannot be the problem. The Liberal State, in fact, arbiters disputes and overcomes imbalances. It starts becoming a problem when it becomes overbearing and pervasive, when its tax-collecting role turns and evolves into harassment. Read more